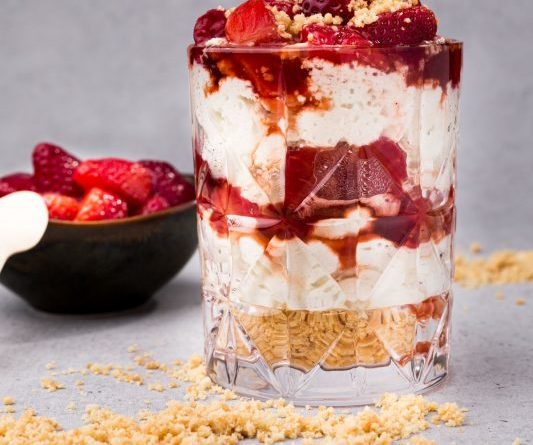 Ingredients:
For the macerated strawberries
300 g of strawberries
10 g of sherry vinegar
20 g of brown sugar
20 g of sweet white wine
1 g of salt
For the cheese foam
200 g of cream
25 g of Gorgonzola cheese
10 g of sugar
50 g of crumble
Preparation:
To prepare this recipe, start by cleaning the strawberries and removing the leaves.
Then, place the strawberries in a vacuum bag and add the vinegar, sweet white wine, brown sugar and salt. Vacuum package the strawberry mixture and leave to macerate for 1 and a half hours.
In the meantime, for the cheese foam, use the XM-12 blender to blend the cream, the Gorgonzola cheese and the 10 grams of sugar until the mixture is smooth. When the mixture is ready, strain and place in a charged siphon. Put to one side
To serve, place the crumble at the bottom as a base, adding the macerated strawberries with a splash of juice on top and finishing with the foam.
In this macerated strawberries recipe, vacuum packaging helps to concentrate and enhance the flavours and aromas of the product.